The Interesting/Spicy dating life of Pete Davidson
As much as we know him for his comedy acting and appearances on the show, we also recognize him as someone who has been dating many well-known celebrities in Hollywood. No matter their age, the "Saturday Night Live" comedian evidently prefers famous ladies, from Cazzie David to Ariana Grande to Kim Kardashian.

It's Official! As rumors swirl around, Pete Davidson and Emily Ratajkowski are confirmed Dating. It's the new internet gossip of whom he is now dating after the Kardashian sister and what is he up to.
Before that, we'll just get into answering who is he. what is his dating history, and who is he dating now, and does it look serious to the Hollywood sources? Because why not, everybody likes a little gossip like us :p
The American Comedian and Actor
Actor and comedian Peter Michael Davidson was born in the United States on November 16, 1993. For eight seasons, from 2014 to 2022, he was a cast member of the NBC late-night sketch comedy program Saturday Night Live (SNL). Early in the decade of the 2010s, Davidson made his acting debut in small-scale guest appearances on Brooklyn Nine-Nine, Friends of the People, Guy Code, and Wild 'n Out.
Just to add to this little gossip:
He has been romantically linked to a very wide range of most popular Hollywood celebrities. The comedian has quite a charm when it comes to dating. Let's get a look at that too
He dated:
1. Carly Aquilino (Early 2015)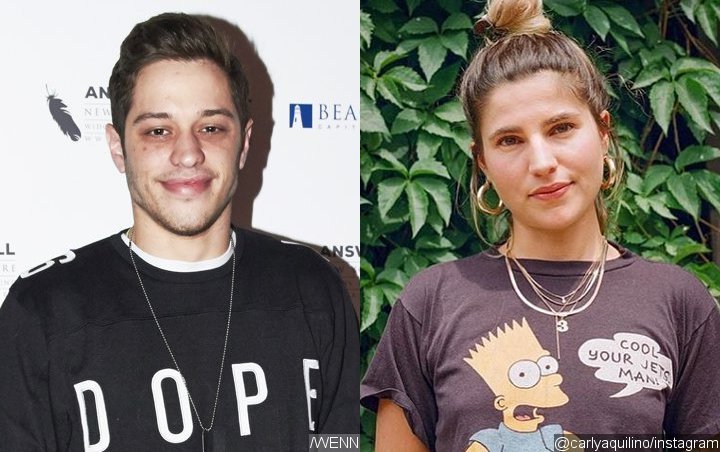 Carly Aquilino, the alum of "Girl Code" in the year 2015, did not turn out to be as serious for the couple.
2. Cazzie David (May 2016 – May 2018)
Cazzie David, is the daughter of famous comedian Larry David. They were in a long-term relationship and got serious very early but in 2018 they officially confirmed their breakup and one of the reasons being that both of them were struggling with mental health issues.
3. Ariana Grande (May 2018 – October 2018)
One of the biggest celebrities of all time, which shocked the masses, Ariana Grande (no introduction required). This relationship began right after Davidson confirmed his breakup with Cazzie David. Things between the couple again got serious as they got engaged a few weeks after they started dating. But as many good things end soon, just like that in five months both of them broke their ties two.
4. Kate Beckinsale (January 2019 – April 2019)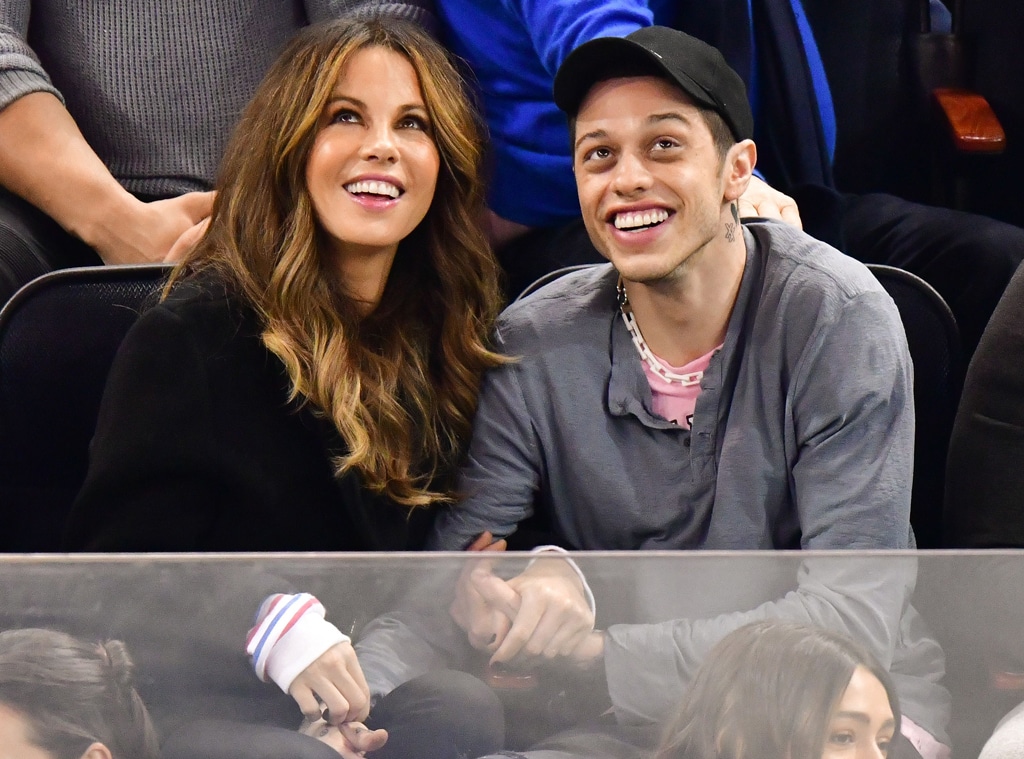 Age was but a number for Pete Davidson and Kate Beckinsale. Pete took no time to find his rebound. Again, with no repetition, they broke up in early April 2019.
5. Margaret Qualley (August 2019 – October 2019)
Margaret Qualley, daughter of actress Andie McDowell, started dating in august of 2019 and broke up with a short short-lived relationship again, up till October 2019.
6. Kaia Gerber (October 2019 – January 2020)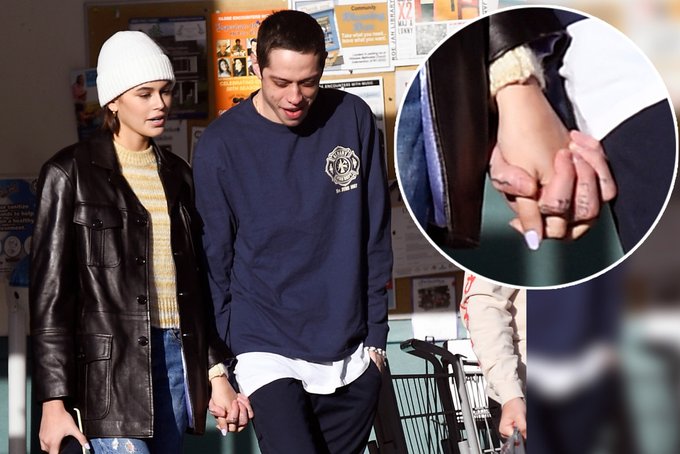 Kaia Gerber, daughter of Cindy Crawford and Rande Gerber, while the relationship lasted for four months.
7. Olivia O'Brien (October 2020)
Olivia O'Brien Claimed to have dated Davidson in early October 2020, but all of these claims were denied by him.
8. Phoebe Denyvor (March 2021)
Phoebe Denyvor the Netflix star in March 2021, fell strongly for Davidson but broke up in five months as she lived in England and he lived in the US and the long distance didn't quite work out for them.
9. Kim Kardashian (November 2021)
The Fashion Queen of all time, KIM KARDASHIAN, started somewhere in November 2021 and lasted for nine months. The spit-up was speculated because of their busy schedules and both of then not being conducive to a romantic relationship.
WHOM IS HE DATING NOW?
An American model, actor, author, and podcaster named Emily Ratajkowski is reportedly dating someone she met through shared connections. They appeared courtside at a Knicks game at Madison Square Garden, confirming the rumors. Although their relationship is casual, she appreciates that they get along well and are at ease with one another.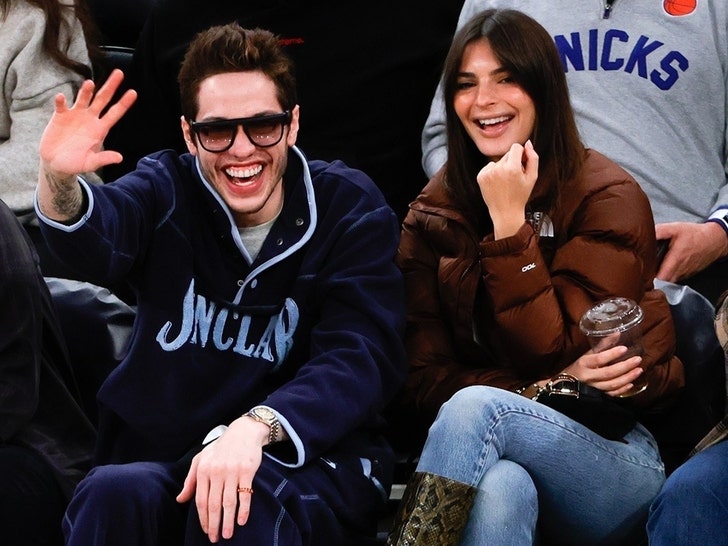 TwoMoi, an Instagram account for celebrity rumors, received a tip that the two were having a romantic date in Brooklyn. PETE DAVIDSON AND EMRATA ON A DATE IN BROOKLYN. The comment in all uppercase reads, "HOLDING HANDS AND ALLLL."
Confusion for the masses:
But the couple has everybody confused as these both might not be as serious as the sources might believe. He was just spotted at a New York Rangers game on Thursday night and the woman sitting next to him was definitely not the Gone Girl star, it was Chase Sui Wonders.
Now the speculations began adding more intrigue to the dating situation is the fact that Ratajkowski was spotted hanging out with DJ Orazio Rispo.
Without a doubt, Davidson has a nick for famous women but nobody is to know what's the deal with both of them, but only time can say who's dating whom!