Hollywood is like a graveyard buried with countless secrets. There's a lot to this glitz and glamorous industry that celebs try to conceal. Talking about concealing, cosmetic surgery is a common practice in the entertainment industry that many prefer to deny.
In this sea of stunning beauties, many have gone under the knife for Botox, implants, cosmetic surgeries, and more. While some keep it under the rugs despite the obvious changes, there are also bold celebs who have openly admitted their secret.
Who is Kaley Cuoco?
Kaley Christine Cuoco was born in Camarillo, California, to Layne Ann (Wingate) and Gary Carmine Cuoco, a realtor. She is of Italian (father) and German and English (mother) descent. A model and commercial actress from the age of 6 got any roles in popular TV shows and movies like 8 Simple Rules (2002), The Big Bang Theory (2007),  Alvin and the Chipmunks: The Road Chip (2015) and The Wedding Ringer (2015) and so on..
When she's not acting, Cuoco is an avid tennis player, was a nationally ranked amateur tennis player until she switched to acting full time in 2002.
Also Read: 1923 Episode 2 Recap: Did Alexandra Break Off Her Engagement To Be With?
Her Career and Net worth:
Kaley Cuoco started her career at the age of 6, when she modeled for commercials for brands like Barbie dolls. In 1992, at the age of 7, she appeared in the TV movie 'Quicksand: No Escape'.
The character of Penny from 'The Big Bang Theory' has been Kaley Cuoco's most loved role so far. While the show received mixed responses initially, it is now considered one of the best shows on television. She and the other lead actors reportedly earn about $1 million per episode.
Her net worth is estimated to be $ 110 million in 2023. 
Actual transformation after plastic surgeries:
Kaley Cuoco admits to plastic surgery. she said that she had nose and boobs done as fells like that was the best thing that she ever did. She is very confident about her plastic surgeries and she is not ashamed to talk about it. She says "As much as you want to love your inner self . I'm sorry, you also want to look good," she said. "I don't think you should do it for a man or anyone else, but if it makes you feel confident, that's amazing."
Kaley has had a breast augmentation, fillers and a nose job.
Also Read: 1923 Showrunner Reveals That Each Episode of Yellowstone Spinoff Will Cost a Lot!
1. Breast Augmentation 
Kaley Cuoco reveals she got breast implants at age 18: It was 'the best decision I ever made'
2. Fillers
Recently she had a filler in a line in her neck that she had since she was 12.
3. Nose job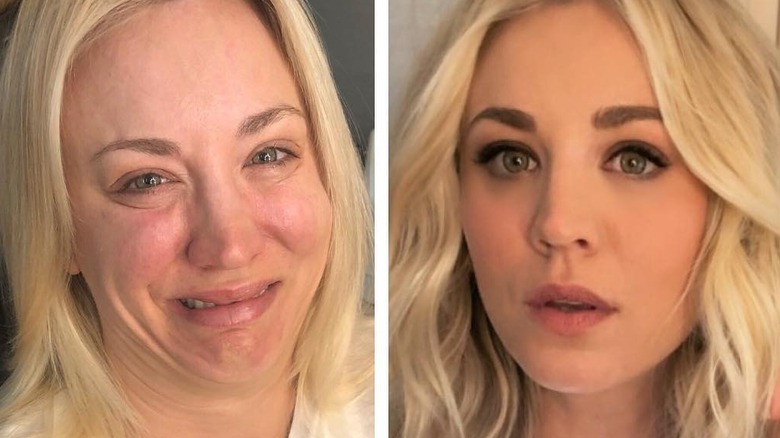 She felt better about her appearance after the nose surgeries. Much like how breast implants can bring balance to the body, a proportionate and well-shaped nose can bring a cohesive beauty to the face.
Efforts to stay flawless:
Cuoco doesn't only go under the knife to maintain her physique. She also watches what she eats and has fallen in love with yoga. She says, "The bottom line is I'm not 21 anymore, so it used to be so easy and I didn't have to do as much. But you're getting a little older and I've got to cut things out. It's important, it's now part of my day. Working out is part of my day, eating right is part of my day." 
Also Read: Is Yellowstone On Today? Season 5 Episode 8 Premiere Date, Streaming Info and Much More!
Her diet plan to stay fit:
"Always eat half," she said. "We eat our entire plate and by the end we just want to fall over because we've totally overeaten. If you're still hungry, eat it later, but if you think about it you don't really need it. So that's been a really good tip for me."
In the end, beauty standards have always been prominent in the industry. Admit it or not, actresses always have done things to make them appear in accordance with those standards, say it Bollywood or Hollywood. With that being said, people have mixed views about this.
Nevertheless, You do you! If it makes you feel confident and it's your wish, then there's no one to judge the right and wrong for you.