He is a successful American football quarterback Rayne Dakota Prescott. He was selected by the "Dallas Cowboys" as the 135th overall choice in the fourth round of the 2016 NFL Draft, and he only participated in the season's first contest in September. In his first season with the Club, he broke Tom Brady's mark for the most consecutive pass attempts without an interception to start a career with 176 attempts.
He just made a full recovery from a thumb injury and remains an important member of the Cowboys. In March 2021, the team used the exclusive franchise tag on Prescott for the second straight season. He then extended his Cowboys deal by four years.
All About His Initial Years
Nathaniel and Peggy Prescott welcomed their youngest son, Dak, into the world on July 29, 1993. Of the three boys in the family, he was the youngest. All three of Peggy Prescott's children were raised by her alone as a single mother. To make ends meet, she drove trucks. She had been a football enthusiast, which is likely what initially piqued Dak's interest in the game.
Dak joined the football squad at "Haughton High School," where he had been enrolled. His effort played a big part in the school winning the District 1-AAAA Championship in 2010. Dak enrolled in the "Mississippi State University" after finishing high school.
Also Read: Married three times, but who is she dating now? Drew Barrymore's lesser known dating life
The Story of His Growth in Career
His collegiate football career began at Mississippi, where he started off as Tyler Russell's backup for two years in a row until earning the team's starting job in 2013 due to Russell's concussion.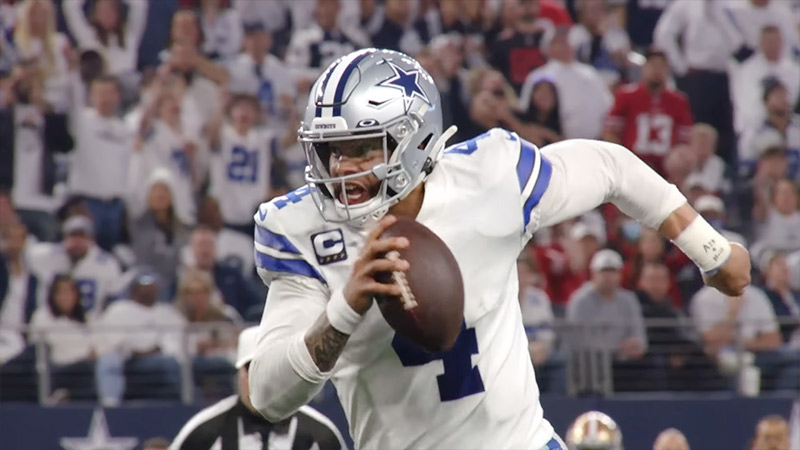 Prescott was selected by the Dallas Cowboys as the 135th overall choice of the 2016 NFL Draft, despite having a very promising start to his career with 38 school records at the end of his college career. Even though he began to play somewhat later in the season, he quickly rose to prominence among the team.
Also Read: Who is Euphoria Star, Storm Reid Dating?
All About His Dating Life
Dak Prescott, the quarterback for the Dallas Cowboys, has been with a single NFL team since the start of his career, but he has never been able to commit to one woman. He dated at least five women throughout the years. But it appears that Prescott and Natalie Buffett, his current girlfriend, have finally made things official.
Let's look at some past relationships that Dak had, before we get into the current one.
1. Dak and Dallas Nicole Parks (2016-17)
Dallas and Dak were dating from 2016 to 2017. Dallas worked for Playboy and is a model. Parks apparently did not get along well with the NFL player since she complained about being mistreated while the couple was dating. Due to an outburst on social media, Parks dumped Dak.
Also Read: A Look Into The Life Of Recently Married Ex-YouTuber Jenna Marbles!
2. Dak and Yasmine Lee (2017- unclear)
Yasmine Lee and Prescott had a committed relationship throughout the 2017 NFL season. Numerous news outlets and tabloids covered their romance. It's unclear how long they were dating, though. Yasmine Lee, an Arizona State University alumna who currently resides in Dallas, was also an Instagram model.
Also Read: Want to know more about dating celebrities? Let's learn it from Pete Davidson
3. Dak and Ireland Borba (2019)
Prior to dating Natalie, Prescott dated Ireland Borba, another Instagram beauty, during the 2019 offseason. Model Borba is of Swedish and Portuguese ancestry. However, no overt information concerning their relationship was discovered. However, they were seen at Top Golf in Tampa, Florida.
Also Read: On Martin Luther King's Day, Here Are Nine Interesting Facts About Him That Might Surprise You!
Who is he currently dating?
Although Natalie Buffett is best known as an Instagram model, she has gained notoriety as Dak Prescott's girlfriend as a result of their relationship. In addition to this, Natalie is a social media influencer and 2019's COED girl of the day. Buffett has captured the attention of the online audience with her attractive, charming demeanour and beauty.
According to reports, the couple got engaged after Natalie shared an Instagram photo of herself wearing a ring. Nevertheless, the information is a result of a formal announcement. Meanwhile, let's learn more about Dak Prescott's girlfriend Natalie Buffett and learn a little more about Prescott's previous relationships.
Also Read: Is Harrison Ford From The Famous TV Series 'Yellowstone' Still Alive in 2022?
She and her brother Marcus Buffett were both raised in Florida. In terms of education, Natalie earned a degree in civil engineering from Southern Methodist University. She relocated to California so she could model.
Prescott typically doesn't talk about his personal life. As a result, he rarely gives the public any information about his partner. However, he admitted that Natalie Buffett, an Instagram model, was his girlfriend.